Managing Partner
Jessie Shaw, CFLS has been practicing law since 1991 and exclusively focuses on Family Law and many high profile, highly complex and sophisticated family matters, which included the representation of high net worth individuals, "A" list celebrities, professionals, business owners and middle class and lower income individuals. She has extensive experience with cases that involve hidden assets and income and property located overseas. She frequently appears as commentator on many media programs and outlets. Full Page Coverage on Y. Jessie Shaw "She Knows courtroom Drama" Los Angeles times, April 8, 2002.
She became a Certified Family Law Specialist in 2002, and is a member of the Association of Family & Conciliation courts. She came to the U.S. at age of 24 and she is the first Chinese Southern California lawyer who was certified by the State Bar of California, Board of Legal Specialization as a specialist in Family law. She tried approximately over 60 trials and over several hundred family law hearings. She has argued family law cases in California Courts of Appeal.
She presented the mother at the trial level in H.S. v. Superior Court (2010, 4th District, Riverside) 183 cal. App.4th 1502. California Court of Appeals granted the petition for writ of mandate brought by a married couple to vacate the order for genetic testing and ruled the trial court erred when it ordered genetic testing in a paternity action when real party in interest had no standing as a presumed father other than a voluntary declaration of paternity that was executed and subsequently rescinded by a married woman.
The highlights of her career include locating the child who had been abducted and hidden by one of the parents in overseas and/or U.S. and obtaining sole legal and physical custody orders after she recovered the child for clients. A number of her cases had been headline news in China, Taiwan and Hong Kong.
She was awarded $250,000 attorney fees and costs and an additional $65,000 as sanction for her client where the court found that the opposing party failed to disclose real estate that he owned overseas that she found. She obtained judgment in her client's favor following a multiple days bench trial to determine the parties' date of separation case was several years later after parties filed and litigated their dissolution case.
Her client was awarded with two real properties in Arcadia and parties' companies where the Court finds that the Wife wired community property funds to her relatives without husband's consent and she has violated fiduciary duty that she owes to the Husband. The Court further finds that Wife's use of community funds to engage in extensive gambling activities without the knowledge or consent of Husband constitutes a breach of fiduciary duty. Husband was awarded with substantial attorney fees and costs against Wife's community property portion. Wife appealed and the Court of Appeals affirmed the trial court's decision.
She negotiated many successful settlements for her clients informally and at mediations.
Jessie Shaw is a descendant of Mongolian Marshal General of Genghis Khan, Muqali (his 21st great granddaughter.)
Education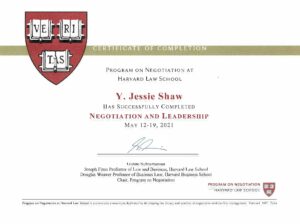 Harvard Law School, Advanced Professional Skills -Program Negotiation and Leadership, 2021
National Chung Hsing University Law, LL.B – Bachelor of Laws, 1986
Temple University School of Law, 1989
Work Experience
Court-appointed minors' counsel, Los Angeles Superior Courts
Court-appointed special master, Los Angeles Superior Courts
Court Appointed Special Administrator of Estate of a Deceased Spouse, Superior Court of California , County of Los Angeles
Associations
American Inn of Court - Present
Beverly Hills Bar Association - Present
Pasadena Bar Association - Present
Los Angeles County Bar Association, Family Law Section - Present
Association of Family and Conciliation Courts, Member 2002 – Present
Association of Certified Family Law Specialists, 2002-Present
Southern California Chinese Lawyers Association, Co-Chair, Asian Pacific Section 1993 – 1994
Taipei and Los Angeles Sister City, Co-chair, 1992 – 1993
United Way Asian Youth Center Fundraising Co-Chair, 1992 – 1993
Speaking Engagements
Legal Talk Family law 2014
Legal Talk Prenuptial 2013
Legal Seminar Domestic Violence Prevention 1994
Legal Seminar Family Law 1992
Awards
Certified Specialist – Family Law, State Bar of California, 2002
Temporary Judge, Los Angeles Superior Court, 2005
Temporary Judge, Superior Court of California, County of Los Angeles, 2003
Certificate of Participation and Generous Support, Los Angeles International Cup Dragon Boat Festival, 1994
Outstanding Volunteer Family Law, Los Angeles County Bar Association, 1993
Certificate of Tribute, Harriett Buhai Center for Family Law, 1992
Master of Chinese Calligraphy, National Chung Hsing University 1982

Attorney
Roger C. Hsu serves as off-counsel for Law Offices of Y. Jessie Shaw.  Mr. Hsu is an experienced litigator who has extensive business, real estate, and employment litigation experience. Specifically, Mr. Hsu has extensive experience in all adjudicative arenas, such as administrative hearings, mediation, arbitration, and trial.
Mr. Hsu has obtained numerous verdicts and settlements for clients in several industries, including, but not limited to: insurance company; exporters and importers in a variety of business; VGA card manufacturer and distributor; custom jewelry wholesaler and distributor; fiber glass manufacturer and distributor; freight forwarders; trucking and transportation company; garment manufacturers; computer manufacturers; radio station; commercial real estate owners; general contractors, sub-contractors and developers; flooring material manufacturer and distributors; real estate companies; brokers and agents; publicly traded companies based in Taiwan and China; and sports equipment manufacturer owned by Chinese government. In a recent matter, a client Mr. Hsu represented in a distributor-manufacturer dispute involving an exclusive distribution agreement obtained a settlement in excess of $5 million.  In May 2015, Mr. Hsu won over one million dollars in jury verdict and substantial attorney fees award.
In his personal time, Mr. Hsu is an avid golfer.
Education:
West Virginia University, College of Law, Morgantown, West Virginia
Juris Doctorate – 1993
Dickinson School of Law, Carlisle, Pennsylvania
Master of Comparative Law – 1990
Chinese Culture University, Law Department, Taipei, Taiwan
Bachelor of Law – 1987
Professional Associations and Memberships:
Los Angeles County Bar Association
Member
Languages:
Mandarin